Common metal sheets or coils are punched into Perforated Metal with different hole shapes with digital controlled punching machines and related equipment. A variety of perforated patterns, opening size, density and forms of distribution can be produced with changing moulds or dies. The perforated metal machines can produce Perforated Metal Sheets of steel, aluminum, stainless steel or specialty alloys that are punched with round, square or ornamental holes in a uniform pattern. Popular sheet thickness ranges from 26 gauge through 1/4" plate (thicker plates are available on special order). Common hole sizes range from .020 to 1" and greater.
Precision Perforation:
Our presses have computer-controlled feed systems handling sheets of a wide range of sizes and thickness. Perforated sheets are produced with an accuracy of .004" (non-accumulating) - an unheralded accuracy figure with conventional perforating.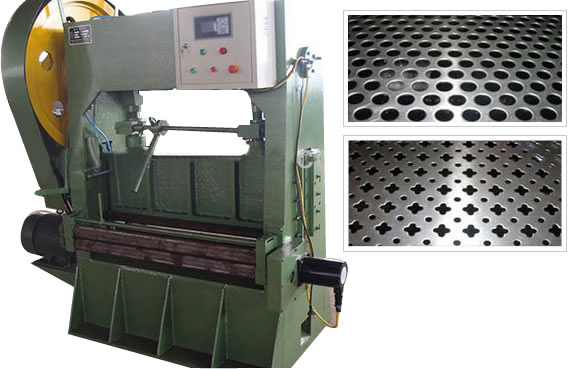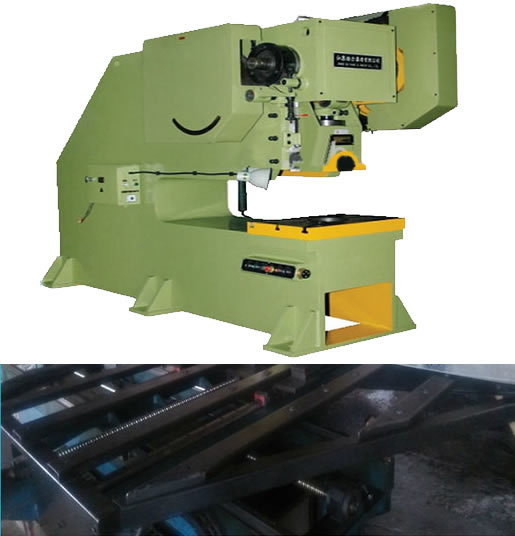 Perforated Metal Punching Machines
General Information:
Punching plate thickness:1mm-6mm
The warranty time: one year ( accessory parts)
Material of mould: tungsten steel or Cr12
Worker needed: one worker operation
All the accessory parts is national standard
The mould is manufacture according the customer's requested.

Two Types:
1. Machine with different specifications of mould plus the rack type feeder or roller type feeder.
2, Punching machine consists of general deep-throat press together with different specifications of moulds and CNC feeding system.
The CNC Perforated Mesh Machine is our major press, easy for handling and operation. It offers the following features:
Increased throat deep and working area;
Adopts horizontally placed crankshaft;
Rigid rotated bond clutch;
Manual shut height adjustment with scale display;
Equipped with emergency stop device, which can make the slide stop at 0o-135o area and equipped with light curtain protector as well.
Main processing steps include for perforated metals:
Leveling, shearing, circle shearing, perforating, coding/labeling, degreasing, deburring, forming, painting/powder coating, anodizing, welding, polishing, joining, bending, rolling, packing.
The perforated metal machines can stamp and process various metal plates, the capabilities following:
Materials applied include low carbon steel plate, stainless steel plate: SS 201,SS304,SS304L,SS316,SS316L,SS321, aluminum plate, copper plate, nickel plate, titanium plate and others. The nonmetallic material include: Fibre plate, plastic plate, film etc.

Sheet Sizes Applied for Round hole perforated metal (steel, stainless steel and aluminum):
(1) Cold rolled steel sheet
Thichness:0.2mm-1mm
Length:1m-20m
Hole Diameter:0.8mm-10mm
(2) Steel Plate:
Thickness:0.3mm-10mm
Size:≤1.5×3m
Hole Diameter:0.8mm-100mm

Slotted Metal Sheet:
Metal Width : 50mm-2500mm
Metal Lenght : 50mm-4500mm
Common Metal Sheets Specifications Produced with Perforated Metal Production Line:
Hole Diameter
Staggered Centers
Sheet Thickness
Open Area
0.045"
1.14mm
.066"
0.033-0.039"
0.84-0.99mm
37.00%
1/16"
1.59mm
3/32"
0.027-0.033"
0.68-0.84mm
41.00%
1/16"
1.59mm
1/8"
0.027-0.066"
0.68-1.68mm
23.00%
5/64"
1.98mm
1/8"
0.027-0.053"
0.68-1.35mm
35.00%
0.081"
2.06mm
1/8"
0.053-0.066"
1.35-1.68mm
38.00%
3/32"
2.38mm
5/32"
0.053-0.066"
1.35-1.68mm
33.00%
1/8"
3.17mm
3/16"
0.027-0.127"
0.68-3.23mm
40.00%
5/32"
3.97mm
3/16"
0.027-0.066"
0.68-1.68mm
63.00%
3/16"
4.76mm
¼"
0.027-0.127"
0.68-3.23mm
50.00%
1/4"
6.35mm
3/8"
0.033-0.111", 0.25"
0.84-2.82mm, 6.35mm
40.00%
3/8"
9.52mm
½"
0.053-0.082", 3/16"
1.35-2.08mm, 4.76mm
51.00%
3/8"
9.52mm
9/16"
0.059", 0.119"
1.50mm, 3.02mm
40.00%
1/2"
12.70mm
11/16"
0.033-0.127", 3/16"
0.84-3.23mm, 4.76mm
48.00%
1/4" Hex
6.35mm Hex
0.285
0.027-0.033
0.68-0.84mm
76.00%
3/8" Sq.
9.52mm Sq.
Cane
0.053-0.066"
1.35-1.68mm
51.00%