Lamina works with both metallic and non-metallic material including, but not limited to: carbon steel, brass, galvanized steel, bronze, stainless steel, copper, nickel silver, composites, nickel alloys, plastics, aluminum, rubber-coated, aluminum materials, prepainted materials, iron, and many more.

Finishes or surface treatments for the materials include:
Galvanized: electro galvanized (zinc coated:8-13g/m2), applied for carbon steel sheets;
Hot-dipped galvanized (zinc coated:30-60g/m2), applied for carbon steel sheets;
Pvc coated for steel sheet;
Polishing for various metal sheets;
Powder coating, applied for various metal sheets;
Anodizing;
Painting;
Fluorocarbon spraying.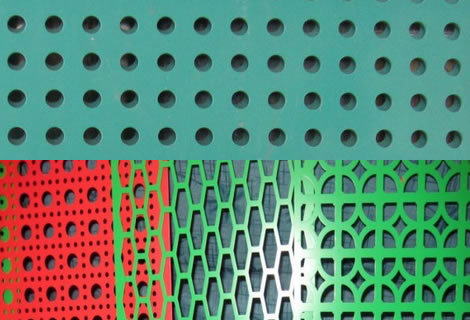 Mild steel perforated sheet with zinc plating features acid and alkali resistance and durable use.
Powder coated finished steel sheet features decorative multi-colors and improved corrosion resistance.