Perforated metal panels are widely used as ceiling panels to absorb the sound and noises within the architectures and buildings. We offer three base materials for sound absorbing panels: Aluminum alloy of various grades, Stainless and Hot Dipped Galvanized Steel. Commonly installed as a suspended acoustic panel system with Clip in square ceiling tiles. The panels can be also used for architectural facade construction and wall cladding uses.
Why Perforated Metal Ceilings?
1. Perforated metal ceilings can have beautiful patterns according to the arrangement of perforated holes;
2. The punched holes have powerful sound absorbing and isolating effect;
3. Fixed perforated types and customized according to client's requirements on patterns, sound absorbing to meet the actual situation.
The sound control perforated metal ceiling screen sheets are not only used in the stadium, they are also used in the studio, ktv, factory, studios, hotels, airports, railways and other places to control the noise and sound.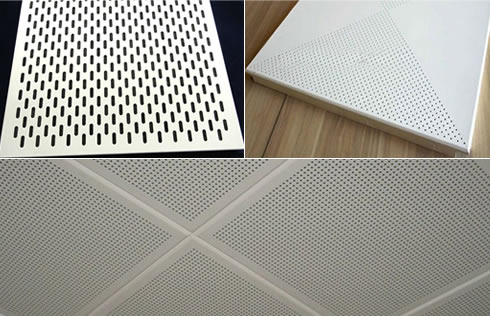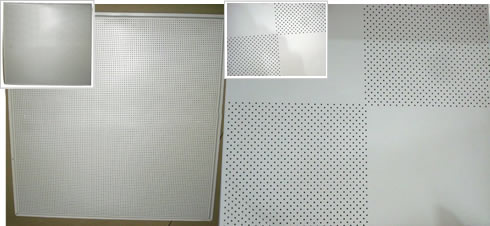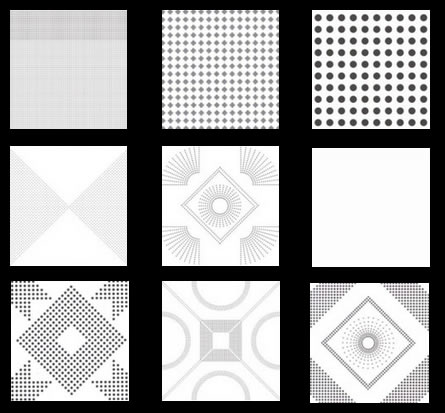 Advantages of Perforated Metal Acoustic Panels:
Light weight, high strength;
Shock resistant, sound absorption, water proof, fire proof, anti-corrosion, anti-fouling, heat insulation;
Simple structure, easy installation and maintenance;
Greatly improved aesthetic effects.
Specification of Perforated Metal Ceilings:
Specification
Thickness
Height
Edge shape
Surface treatment
300×300mm
0.3-0.65mm
18mm
Bevel or square
Polyester powder coating Wood grain coating
100×100mm
0.4-0.65mm
20mm
100×600mm
300×600mm
0.4-0.9mm
300×1200mm
400×400mm
500×500mm
600×600mm
0.4-1.05mm
20/25/30mm
600×1200mm
Punching dia & rate
0.8mm: 1.9%; 1.8mm: 19.5%; 2.3mm: 16%; 3.0mm: 8% or 28.5%
Aluminum perforated sheets are first choice for stadium and other big public facilities silencer system with three major reasons:
one is that alumium perforated sheet has light weight, the other is its decorative property, the third is that aluminum metal plate has good corrosion resistance and insulation property under wet environment with forming of metal oxide film on the surface layer. Hence, aluminum perforated panels meet the primary safety requirement in the application of the stadium construction. Security issues are the most important factors to consider for stadium and public facilities. The aluminum perforated sheet thickness ranges from 0.3mm to 8.0mm. The hole patterns are round, oblong, cross, triangle and custom designs.

The metal punching sound-absorbing panels can be finished with powder coating to enhance the antioxident property.

Perforated metal aluminum acoustic panel is made from high quality aluminum alloy panels (0.6mm-1.2mm thick).
Material Grades:
International standard 1100H24, 3003H24, or 5005H24 aluminum alloy depending on requirements; galvanized iron and stainless steel are made available as well.

Clip in Perforated Metal Ceiling Panels:
This is a suspended acoustic panel system with Clip in square ceiling. Widest applicable among all type of ceiling with outstanding advantages. Plain or pattern can be selected according to the actual requirement. Clip in system which is concealed, steady structure, flat surface, could be both used as ceiling and wall panel.
Base materials: Aluminum alloy of various grades. Also galvanized iron and stainless steel materials.
Surface finishes: Powder coated (ordinary powder or polyester powder), paint coated or film coated.
Installation:
The upper main keel and lower triangle keel are tightly connected with cross structure, to assure the levelness of the suspended system with more solid structure.
Accessories including: Hanging pole, keel, hanging parts, explosive bolt, triangle keel, wall angle and square plate, etc.
Uses: Mainly used in project for big area with soundproof requirements, such as hotels,stores,office building, hospitals,railway stations,metro stations and so on.