Mild Steel Checker Plate makes ideal anti-slipping material where a large area flooring needs to be covered. Manufactured from one-piece sheet material with serrated edges on top, the chequered diamond plates provides an anti-slip resistant grip from all directions. Checkered plates are used as the floor panels or wall panels. Also written as Chequered Plate or Checkered Plate. The steel tread plates with raised chequered patterns will prevent floor or surface from being damaged due to movement of goods, for example, pallet trucks in a warehouse environment and the interior of a truck/van, ship flooring, decks, oil field drilling station tread plates. Steel checker plates are mostly finished with hot dipped galvanizing layer or zinc plate to achieve enhanced anti-corrosion resistance property and bright silver surface. The plated carbon steel checker plates are used also with bar grating as covering surface to form a stair tread with light weight and strong structure.
Comparing of Checkered Steel with Checkered Aluminum:
We also supply aluminum checkered plate for your choice. Galvanized steel checker plates cost less compared with aluminum plate. Aluminum floor plate has less weight and will never get rust. We encourage customers to choose according to specific uses.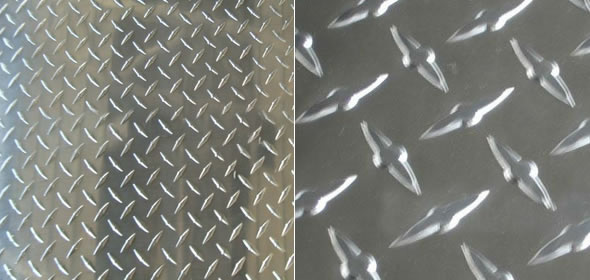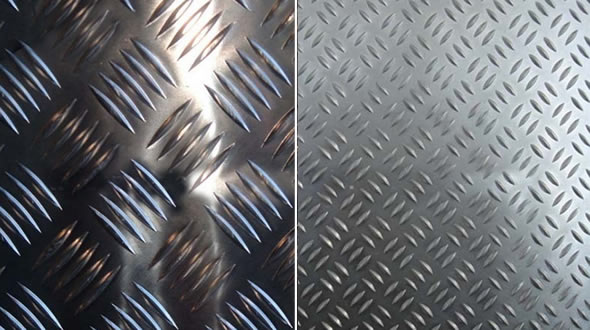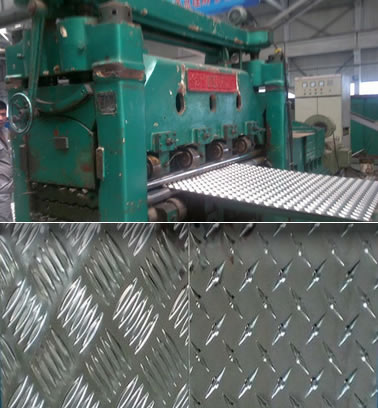 Features and Application: Chequer plate (checker plate) is both slip-resistant and decorative. We can supply perforated draining cover plates, fabricated step plates or tread plates.
Standard Sheet Thickness:2-30MM
Plate Width:1000mm-3000 mm
Sheet Length:1000mm-18000mm as customer demand
Application: Perforated checker plates are used in Ship building, Engineering construction, Mechanical manufacturing.
Patterns:Diamond,Hyacinth Bean, Chrysanthemum or according to your requests.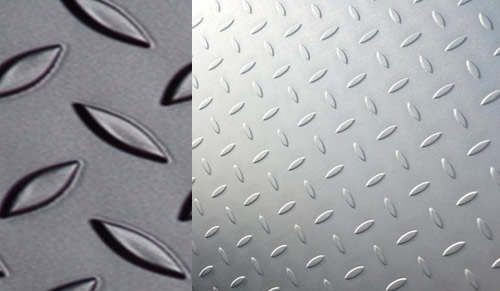 Galvanized Steel Chequered Plate Standard Size:
Sheet Thickness
Tolerance
Weight (kg/m2)
Diamond / Rhombus
Hyacinth bean
Round bean
2.5
±0.3
21.6
21.3
21.1
3.0
±0.3
25.6
24.4
24.3
3.5
± 0.3
29.5
28.4
28.3
4.0
± 0.4
33.4
32.4
32.3
4.5
± 0.4
37.3
36.4
36.2
5.0
+ 0.4
42.3
40.5
40.2
- 0.5
5.5
+0.4
46.2
44.3
44.1
-0.5
6
+0.5
50.1
48.4
48.1
-0.6
7
0.6
59
52.6
52.4
-0.7
8
+0.6
66.8
56.4
56.2
Galvanized Steel Checker Plate Covered Bar Grating Stair Tread:
They have integral side channels and can be manufactured in a variety of materials: pre-galvanized steel, aluminum alloy, and stainless steel. Considering the cost, galvanized steel perforated sheets are the mostly used one.
Perforated open grip planks are manufactured from one-piece sheet material with embossed patterns. Because of the way these treads are designed and produced, Lamina metal sheet flooring retain a larger percent of their original non-slip characteristics over a longer period of time.
This metal grating is widly used on construction project, oil project, seaport, power plant, water plant, defense project, chemical factory and so on.

Base materials are steel bar gratings:
Bearing Bar:
25x3, 25x4, 25x4.5, 25x5, 30x3, 30x4, 30x4.5, 30x5, 32x5, 40x5, 50x5, 65x5, 75x6, 75x10---100x10mm etc; I bar: 25x5x3, 30x5x3, 32x5x3, 40x5x3 etc
US standard: 1''x3/16'', 1 1/4''x3/16'', 1 1/2''x3/16'', 1''x1/4'', 1 1/4''x1/4'', 1 1/2''x1/4'', 1''x1/8'', 1 1/4''x1/8'', 1 1/2''x1/8'' etc
Bearing Bar Pitch
12.5, 15, 20, 23.85, 25, 30, 30.16, 30.3, 32.5, 34.3, 35, 38.1, 40, 41.25, 60, 80mm etc
US standard: 19-w-4, 15-w-4, 11-w-4, 19-w-2, 15-w-2 etc.

Surface flooring sheets: Galvanized Steel Checkered Plates with diamond pattern 3 bar or 5 bar chequers.