Perforated metal sheets are used popular in filter elements processing, either as filter screen or as filter backing tube. Metal tubing processed from thick sheet with perforated round holes combines the structural strength, uniform opening and lasting properties. The welded steel tubing is suitable for filter cores which can withstand quick flow of liquid and support the outside filter mesh layer. Micron slotted hole perforated steel tubing is used as filter cylinder or casing tube in oil drilling, mine developing and other industries. The welding types for perforated tubes are welded butt welded seam and spiral lock seam welding. We also offer welding options including spot welded tubes, longitudinal/straight seam tubes, straight seam tack welded tubes, abutted seam tubes, straight lock seam tubes, and more.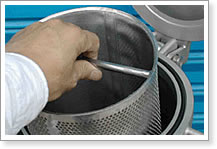 Made with advanced digital controlled equipment, perforated metal tube has high precision, low difference and strong filtering. The diameter perfora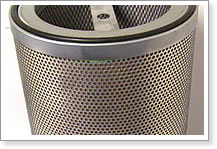 ted ranges from 0.3mm to 100mm.

Perforated pipes/ tubes are mainly used in sifting and grading in mine development and other industrial uses. We also offer square tubing for modern building decoration designs and cable tray covers.

Materials: Hot dipped zinc coated steel or stainless steel sheets.
Typical opening for filter cylinders: Round.
We offer the following perforated tubing products:
1) Oil Casing Perforated Filter Tube
2) Spiral Lock Seam Welded Perforated Metal Filter Support Cores and Covers
3) Stailess Steel Perforated Filter Tubes
4) 304,316,316l Perforated Stainless Steel Filter Basket
5) Steel Perforated Filter Cylinder .
Oil Casing Perforated Filter Tube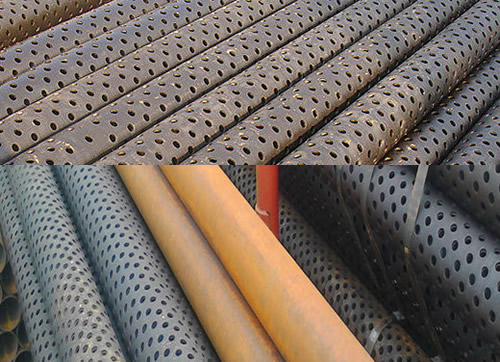 Pipe Size
Holes per feet
Size of hole
Perforated Area per Feet
3/4"
78
3/16"
2.15
1"
54
5/16"
4.14
1-1/4"
66
5/16"
5.06
1-1/2"
78
5/16"
5.98
2-1/16"
78
5/16"
5.98
2-3/8"
90
3/8"
9.94
2-7/8"
102
3/8"
11.26
3-1/2"
126
3/8"
13.91
4"
138
3/8"
15.24
4-1/2"
150
3/8"
16.56
5"
162
3/8"
17.88
5-1/2"
174
3/8"
19.21
Perforated Metal Backing Tube Welded for Pleated Filter Elements Processing: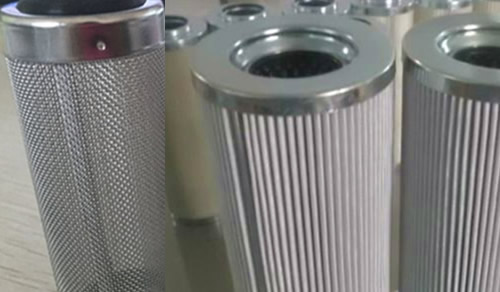 Perforated metal can be formed into cylinders as support metal cores for pleated candle filters processing. The perforated tubes are made of laser cutting and high-precision welding. The pleated filter elements have a high filtering accuracy and great dirt holding capacity. It is Widely used in the polymer filtration, oil, petrochemical, electronic hot temperature gas dust removal, oil refining process of filtration, catalyst carrier and various precise filtration.
Stailess Steel Perforated Filter Cylinders
Material: Stainless steel 304, 304L, 316.
Pattern:Round hole.